On 6th November, during filming for Block 918, the crew had to reshoot a couple of scenes for Block 912/913, scenes involving Sally which will make up the 2007 Season Finale and also the first episode of 2008. The night before these scenes air in Australia, we can give you an exclusive sneak preview of the beginning of one of Home and Away's biggest ever storylines!
**WARNING **
THIS ARTICLE CONTAINS A MAJOR SPOILER
DO NOT READ IF YOU DON'T WANT TO KNOW HOW THE 2007 SEASON ENDS

Remember to click on the images to make them bigger!

It's a murky day on Palm Beach when the crew start setting up at 8am. Sam Atwell has been brought in to direct the few scenes that make up the reshoot, before filming starts again on Block 918 which is being directed by Scott Hartford-Davis.
Kate Ritchie and Chloe Marshall (Sally and Lil' Pippa) arrive to film their scenes. Sally and Pippa walk along the beach and sit down to play, during which a bit of a wrestling match with the towel ensues.
Sally goes on to write a word in the sand. Once this part of the scene is finished, the crew call in a Special FX team in order to wet down the top end of the beach near the fence. All will become clear soon.
It becomes apparent that Sally and Pippa are not alone, they are being watched from the bushes by Miles. Miles, played by Josh Quong Tart of 'All Saints' and 'Headland' fame, has been established throughout the episode as a derelict who has been asking questions about her.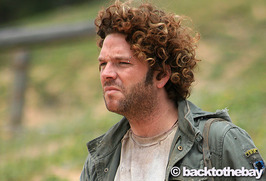 He walks along the beach to get a closer look, and almost automatically he writes a word in the sand with his stick. He looks at the word and walks off. We see the word and realise that Miles has a very close connection to Sally.....and this is where the 2007 Season ends.
In the opening episode for 2008, to be shown on 28th January, Sally and Pippa leave the beach and walk past where Miles was stood....Sally is shocked to see that the very word that she wrote down on the beach has also been written there.....
'MILCO'
What is his connection to Sally? We know but our lips are sealed! The full secret and backstory will be revealed in a truly unmissable episode to be shown on 11th February, an episode which is sure to go down in H&A history!